As we here at Screamish finally return to the land of the living after our holiday break, pack away our festive socks and stop watching Silent Night, Deadly Night 2 more than we should, we're taking a trip through 2019 to share a few of our favourite genre flicks with our inaugural "Best Horror Films Of 2019" breakdown.
2019 came and went without a stand out monolith like Hereditary, Get Out, The VVitch or even a Conjuring to dominate Horror fans discourse and definitively declare it to be the year of any particular film. However, with lackluster offerings from major studios and so-so sequels battling comic book blockbusters for mainstream attention, it was truly a year where smaller, indie films and foreign features stood out, while niche streaming truly took over as a major vehicle for horror fans to get their fix outside Netflix. Take a look at some of our favourites over the past year, ranked in no particular order. From exploding pot headed vampires to creeping cosmic horror, from the 1980's of Paris to the center of the galaxy, it's been a wild ride with some freaky, fun and fantastic films you just can't miss.
KNIFE + HEART (UN COUTEAU DANS LE COEUR)
? Director: Yann Gonzalez | French (France)

Directed by M83's Yann Gonzalez, the world of "Knife + Heart" created a Neo-noir Giallo in the saturated , hyper-sexual 80s vision of a masked murderer's rampage through Paris' gay underground. Absolutely stunning visually with a surreal, self-aware script, Knife + Heart managed to make its way to North America in late 2019 via Shudder, just in time to land on our best of list. For fans of Dario Argento and David Lynch alike, this film oozes sex, style and sadness…a perfect mix.
MIDSOMMAR
? Director: Ari Aster | English (USA) | Streaming on PRIME
After 2018's unstoppable Hereditary , all eyes were on Ari Aster to deliver his follow up, and deliver he did with one of the Best Horror Films Of 2019. A "break up movie" that lays waste to everything it touches, Midsommar boldly stepped out of the shadows with a sun soaked, hallucinatory tale of a cult hidden in the hills of Sweden and what happens to a group of friends who attend their annual solstice festival. Needless to say, things don't go as planned, and Aster ratchets up the dread and delivers some supremely satisfying gore without relying on either genre tropes OR his previous work. An absolute must-see for 2019, Aster continues to be one to watch in the world of Horror.
TERRIFIED (ATERRADOS)
? Director: Demián Rugna | Spanish (Argentina) | Streaming on SHUDDER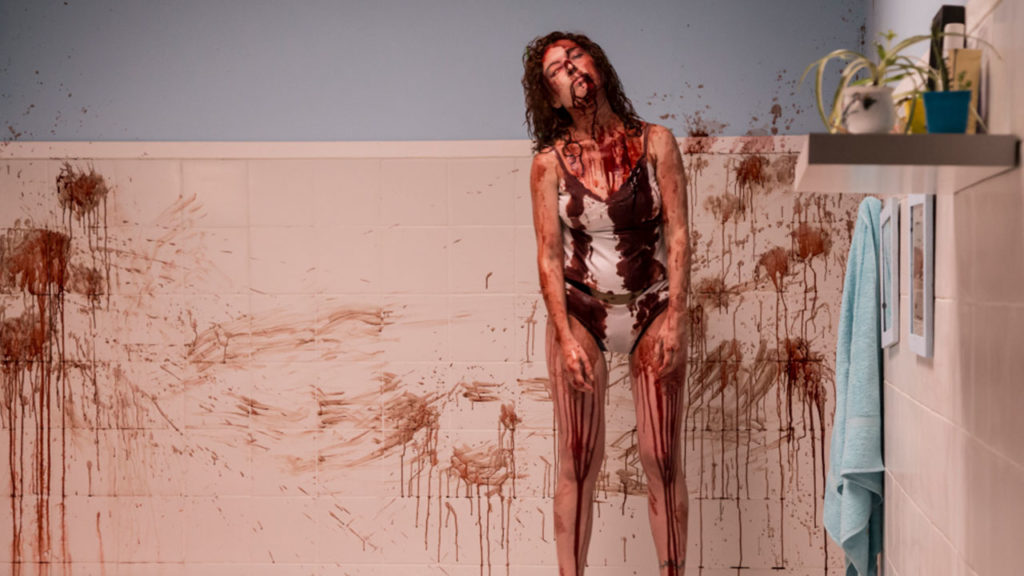 Another delayed arrival to North America, 2017's Argentinian paranormal shocker Terrified turned the haunted house genre on its head with a tale of an entire neighborhood besieged by strange happenings and the mysterious team of investigators sent to stop them. Brilliant both visually and sonically, Terrified takes every disadvantage of its meagre budget and instead uses it to obscure, deflect and distort the monsters, both human and otherwise, making them infinitely much more effective when they finally come forth. This one had us genuinely gasping throughout!
GIRL ON THE THIRD FLOOR
? Director: Travis Stevens | English (USA) | Streaming on PRIME
"Girl On The Third Floor" is a tightly scripted, deceptively simple story of a not-so-good guy in way over his head during a hellish home renovation, and one easily of the best horror films of the 2019. Heralding the directorial debut of "Starry Eyes" and "We Are Still Here" producer Travis Stevens, this one is a slow-burning, unapologetic B-movie with one of the year's breakout performances in WWE star Phil 'CM PUNK' Brooks and some jaw-droppingly disgusting practical effects for another one of the Best Horror Films Of 2019.
COLOR OUT OF SPACE
? Director: Richard Stanely | English (USA)
Heralding the return of Richard Stanley after a 20+ year hiatus from film-making, the brilliant director of Hardware and Dust Devil takes H.P. Lovecraft's classic tale of a family farm under siege by cosmic horrors into the 21st century, anchored by Nicolas Cage in one of his best recent performances and filled to the brim with body horror using incredible practical effects that would make even Screaming Mad George blush. With Stanley at the helm, a veteran of the genre has presented a classic horror story without an ounce of post-modern irony, while still paying proper justice to Lovecraft's often indescribable cosmic landscapes.
COME TO DADDY
? Director: Ant Thompson | English (USA)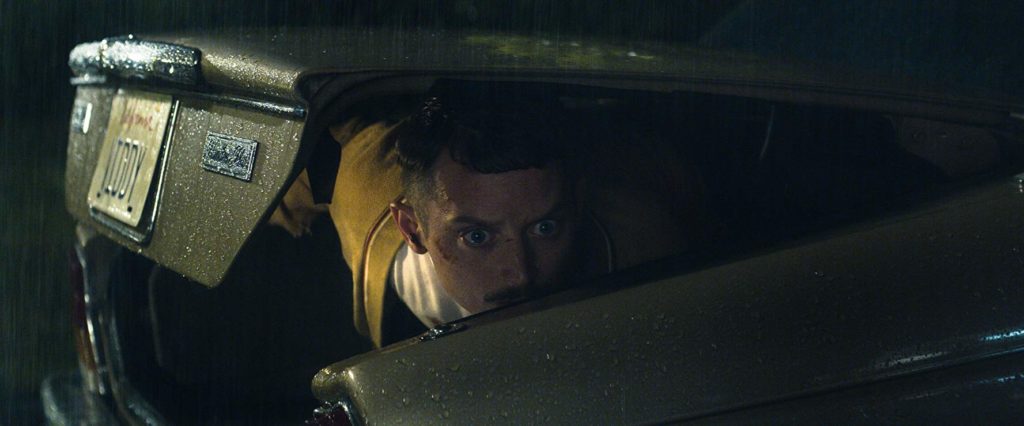 When the vapid and aimless Norval (Elijah Wood) receives a letter from his long-lost father, who left him and his mom behind decades ago, he treks out to his dad's remote cabin in search of the family reunion he has always dreamed of. Noval's dreams fall apart pretty fast when he meets his brittle and horribly mean, alcoholic father Brian (Canadian acting legend Stephen McHattie). "Come to Daddy" is one hell of a midnight movie (read our full review here!) that's all but guaranteed to entertain and thrill the genre crowd. Those who have the stomach for bloody antics will soon find director Ant Timpson also laces in solid character development in-between the ultra violence, letting his actors make a meal of every scene.
BLOOD MACHINES
? Director: Seth Ickerman | French (France)
Essentially an epic music video for synth wave provocateur Carpenter Brut, the hyperactive, hypnotic "Blood Machines" marks the feature debut of directing duo Seth Ickerman. Yes, it is mostly style over substance, with a threadbare story of space scavengers and cosmic sorcerers fighting to steal a rogue AI, but when your style is just so fucking cool does it even matter? Stunning from the first second to the last, "Blood Machines" delivers more in it's lean 50 minute run time than most blockbuster action films could hope across three sequels, and you won't even notice the plot holes with your jaw firmly dropped to the floor. This one hits Shudder in 2020, so keep your eyes to the sky.
BLISS
? Director: Joe Begos | English (USA) | Streaming on PRIME
Messy and energetic like a really good mixtape, Bliss is packed with gory, goofy fun and some of the most gloriously over the top ideas we saw in 2019. The tale of an LA artist who's creative block is finally lifted through some decidedly bloody inspiration, Bliss careens across it's city setting gleefully lifting the best bits of body horror, vampire movies and crime stories to create a thoroughly entertaining and original B-movie bop.
ANNABELLE COMES HOME
? Director: Gary Dauberman | English (USA)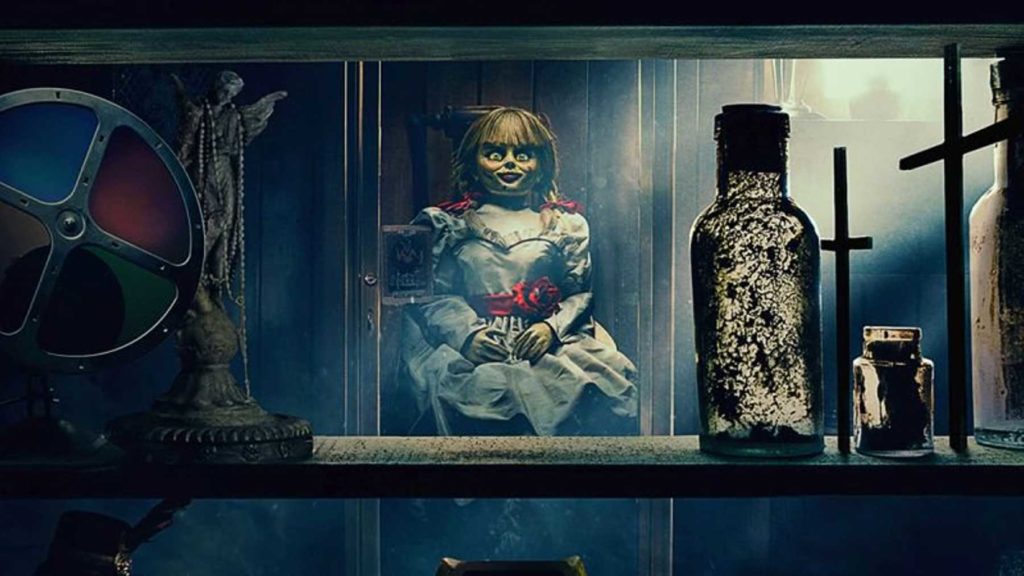 Full disclosure: we love the Annabelle series, from it's terrible 1st entry to it's glorious prequel to this, the 3rd entry in the series spun off from James Wan's billion dollar horror juggernaut, The Conjuring, so any attempt to argue it's place as one of the Best Horror Films Of 2019 will be soundly ignored. Not as awful as the first, not as surprisingly well done as David F. Sandberg's entry, this Annabelle returns the doll to her origins and manages to give us an effective, Halloween friendly horror film that stood out as one of the better mainstream offerings of the year. With plenty of mayhem and some crossovers from The Conjuring cast, there's no better rain day watch than this.
IN FABRIC
? Director: Peter Strickland | English (UK) | Streaming on PRIME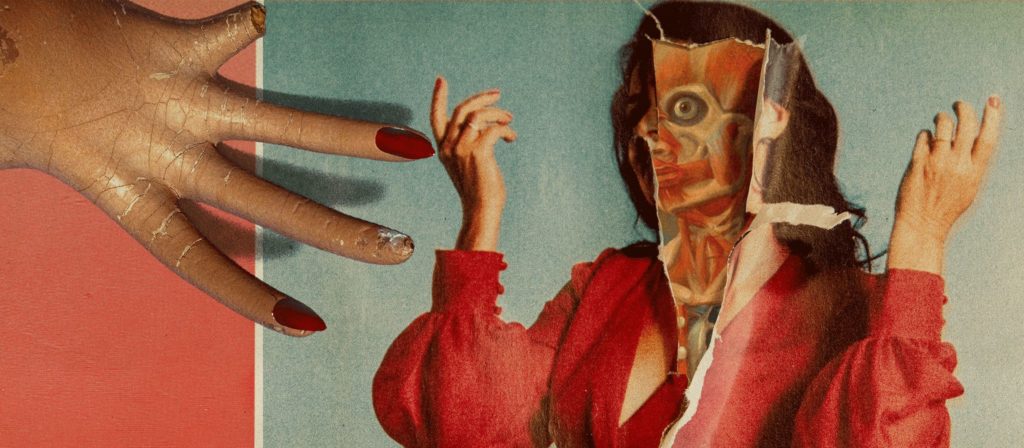 Blending fear and the fantastic, In Fabric is definitely original; a woman's life is torn apart by an ambulatory dress that she buys for a night out, and that's not even the weirdest part. Completely enrapturing and soaked in a somber, romantic aura that adds to the fairy tale like qualities in the film, In Fabric is one that will stay with you long after you finish watching, eschewing gore and guts for something far more frightening.
THE LIGHTHOUSE
? Director: Robert Eggers | English (USA/Canada)
Is "The Lighthouse" a Horror movie? Is it a fantasy? Our answer: who cares. The Lighthouse, from director Robert Eggers, is easily one of the finest films of the decade, let alone the year, anchored by scenery annihilating performances from Willem Dafoe and Robert Pattinson and stunning cinematography. Tense and unyielding, this tale of two lighthouse keepers slowly going mad as a storm batters their island post not only blurs the line of fantasy and reality, it drunkenly pisses all over it. For any lover of film, this simply cannot be missed.
THE HOLE IN THE GROUND
? Director: Lee Cronin | English (Ireland) | Streaming on PRIME
A young mother living in the Irish countryside with her son suspects his increasingly disturbing behaviour is linked to a mysterious sinkhole in the forest, and fears he may not be her son at all. Another small, atmosphere rich genre film from A24, "The Hole In The Ground" quietly builds a believable sense of mystery anchored by solid performances from leads Seána Kerslake and the young  James Quinn Markey (really, is anything creepier than a ginger child?). Another one of the best Horror Films Of 2019.
LUZ
? Director: Tilman Singer | German (Germany) | Streaming on SHUDDER
Luz is a simple story executed so well you just can't look away: a young cabdriver drags herself into the brightly lit entrance of a run-down police station. A demonic entity follows her, determined to finally be close to the woman it loves. An interrogation unlike any you've ever seen follows. That's it. Not really available until 2019, we loved Tilman Singer's whip-smart story of possession hot-potato so much we had to include it on this best of list. Wildly inventive in its vision and sound design, Luz is a must see for any horror fan, just read our review for more.
THE PERFECTION
? Director: Richard Shepard | English (USA) | Streaming on NETFLIX
Not arriving on International Netflix until 2019, we loved the twisting, twisted tale of "The Perfection" too much not to include it on our list. A slow burn that suddenly drops the entire floor of the film out from underneath you, it's the story of troubled musical prodigy Charlotte (Allison Williams) who seeks out Elizabeth (Logan Browning), the new star pupil of her former school, sending both musicians down a gruesome path.
Welp, thats it! Did you agree with our picks? Noticed something was missing? Absolutely HATE everything we love? Shoot us your comments or thoughts: