In 'Disappearance at Clifton Hill' the grim, grey off season of Niagara Falls acts as a fitting backdrop to an unseemly kidnapping gone cold 25 years earlier. Abby has fled a breakup in Toronto to help sell her late mother's beloved Rainbow Motel and is haunted by what she remembers seeing. Or rather, what she thinks she saw. As her amateur investigation reopens the once closed case, the town's seedy underbelly is overturned and she winds up falling into a world of trouble.
From director Albert Shin, 'Disappearance at Clifton Hill' is equally calculated and confident, with a certain cold charm in its execution, burning ever so slowly, drawing you in, until a hallucinatory conclusion changes everything. With fantastic performances from the leads, an impenetrable Tuppence Middleton as Abby and an implacably odd David Cronenberg as a local conspiracy nut that's half Evil Kinevil and half Art Bell, the strangely specific personalities of small town Ontario add a layer of almost "David Lynch lite" to everything, an off-putting anxiousness to every interaction Abby has in her investigation. Canadians, being ever so polite, don't seem to appreciate appreciate an outsider asking questions. At first relishing the familiar mystery tropes of retro-diner document drops, staticky VHS tapes and her very own 'yarn wall', Abby's initial glee in stirring up trouble quickly turns to fear when things turn very real, very quickly as she steps on the toes of the local land development baron, a pair of tiger owning French magicians, and her own estranged family.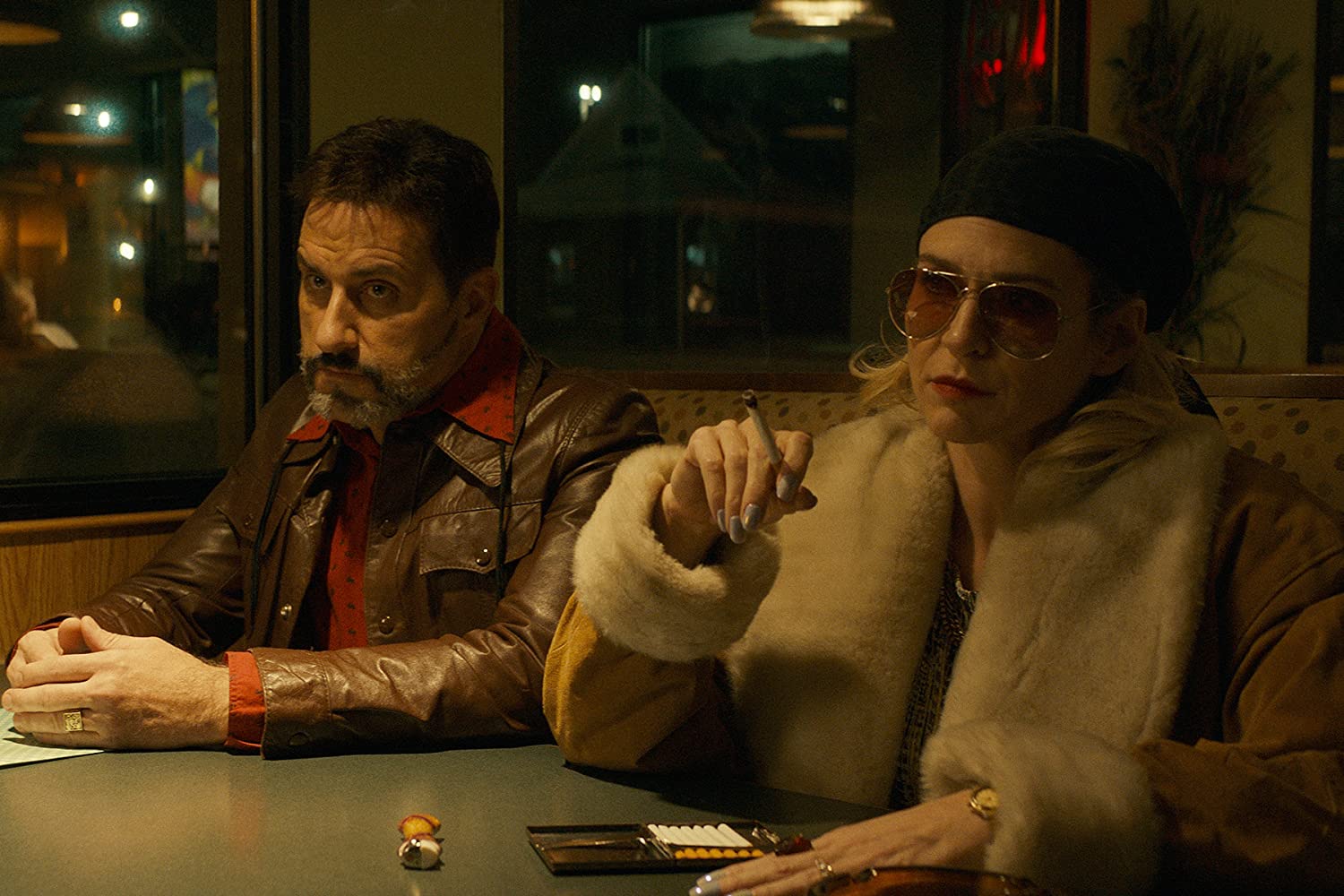 'Disappearance at Clifton Hill' is propelled not only by it's perfectly cast characters (especially the mysterious Podcaster played by Cronenberg and unforgettable supporting roles Marie-Josée Croze as a chain smoking Quebecois magician and Elizabeth Saunders as a tiger taming, white trash gambler) and well paced screenplay co-written by Shin and James Schultz but also by a discordant, hypnotic score by Alex Sowinski and Leland Whitty of Canadian band BADBADNOTGOOD and naturalistic but suitably 'Modern Noir' cinematography from Catherine Lutes that pairs the lurid red lights from facade of Niagara Falls presented to tourists with the drab, damp reality of a seasonal small town that time is passing by.
Like any good crime story, 'Disappearance At Clifton Hill' lets out a little of its mystery at a time, almost totally bereft of any 'action' in the traditional sense, and with an unreliable narrator to boot, until the tension is nearly unbearable. And it's in this quiet, more believably sinister telling of its tale that the film displays it's unique, and uniquely Canadian take on the classic potboiler, leaving its audience to ask as many questions as the story answers.
'Disappearance At Clifton Hill' is out now on Amazon Prime VOD. Watch the trailer below for a taste.