I don't know why, but I had very high expectations going into this movie blind. Barely any marketing was released for this film, other than some incredible stills, a teaser trailer and raving reviews online. "Come to Daddy" is the Directorial debut from Ant Timpson, New Zealand cult film producer most known for his involvement in ABC's Of Death, Housebound & Turbo Kid.
Centred around Norval (Elijah Wood), an awkward thirty-something Beverly Hills hipster walking around life desperate to discover whatever it is his existence lacks. Recovering from alcoholism and depression, Norval endows himself with a fake glamourous and flashy persona, as put on as the gold-plated-limited-edition Lorde iPhone he clutches onto in the opening sequence.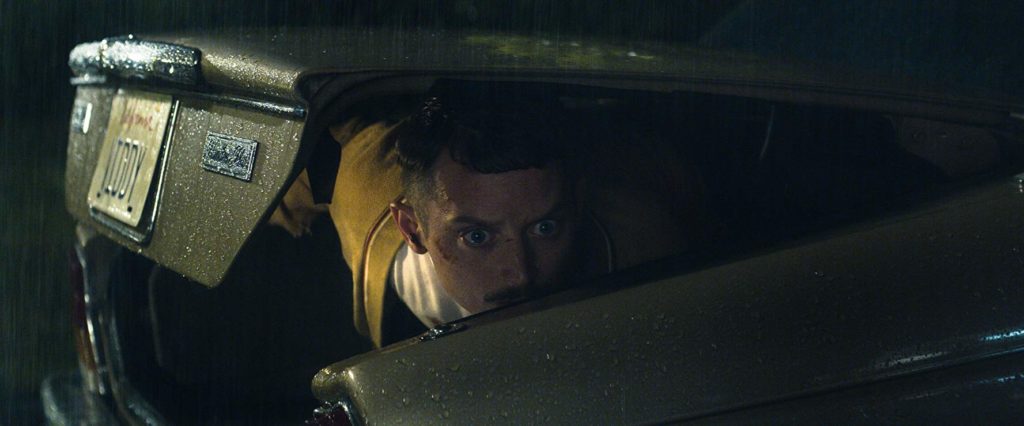 When Norval receives a letter from his long-lost father, who left him and his mom behind decades ago, he treks out to his dad's remote cabin in search of the family reunion he has always dreamed of. Noval's dreams fall apart pretty fast when he meets his brittle and horribly mean, alcoholic father Brian (Canadian acting legend Stephen McHattie).
The interactions between Norval and his long-lost father ins "Come to Daddy" are a horrible car crash you can't look away from. McHattie chews up, savours and spits out every vicious barb that Timpson and screenwriter Toby Harvard give him. Harvard previously co-wrote "The Greasy Strangler", funnily enough produced by Elijah Wood's company Spectrevision! If you've seen "The Greasy Strangler" you know how fucked up he can make a father-son dynamic and "Come to Daddy's" script puts Wood and McHattie to-to-toe in a series of incredibly toxic and problematic interactions that I loved every second of.
"Come to Daddy" isn't just a win as a shocking horror film ripe with violence and unexpected twists and turns, but for the unique world and character building and resonance beneath it all. Yes, it's a cunning and zig zagging script that thrills in continuously subverting expectations, and yes – the violence is 100% there – Crowds at Fantasia Fest in Montreal and at the screening I attended at Toronto After Dark ROARED and laughed through all these sequences. But the biggest treat comes when the outrageous reveals somehow make the film even more…sensical.
"Come to Daddy" is one hell of a midnight movie that's all but guaranteed to entertain and thrill the genre crowd. But those who have the stomach for bloody antics, Timpson also laces in solid character development and some amazing moments between the ultraviolence, letting his actors make a meal of every scene. Funny and screwed up in the head with a cartoonish sense of humor that borders on realism, "Come to Daddy" is a strange but incredible film I cannot recommend enough. Stay tuned to Screamish on any updates for local and digital release!