The holidays are a time to throw away our differences, put aside the rituals of whatever vengeful god your particular tribe may have worshipped, and embrace our one true master: SWEET HORROR MERCHANDISE. To help find the perfect gift for the Horror lover in your life, we've hand-picked 13 great horror gift ideas for the holidays, and because the world of Horror is so vast, we've included a few choice options for the slasher fans, Giallo lovers, splatter-heads or true crime fanatics in your life to make sure you get something they'll just die for. Take a spin through our list below and let us know if you have your own great horror gift ideas for the season to share with Screamish fans!
Creepy Co. Spooky Throw Blankets
A great Horror gift idea and a perfect excuse to curl up with the horror lover in your life under these hellishly comfortable fleece blankets from the fine folks at Creepy Co. An ultra high-quality print of the cover art for R.L. Stein's Goosebumps classic "The Haunted Mask", Sam Raimi's EVIL DEAD (pictured), The Texas Chainsaw Massacre or the original Scary Stories To Tell In The Dark would already be a great horror gift idea, but having that print on a warm and fuzzy blanket just in time for winter? Count us in! PS: Whatever print you pick, we can confirm thorough extensive scientific / cat related testing these are a perfect addition to any bedroom or home theatre.
NECA Action Figures
NECA continues to bring the best in b-movie and horror icons to life with their range fully posable 8″ figures. Who wouldn't want to hang out with Herbert West from Re-Animator, become your own Dr. Loomis with a Killer Michael Meyers set or build your own "David Cronenberg Cinematic Universe" with a ghoulish Dr. Decker recreation from Clive Barker's creature-feature classic "Nightbreed"? For the casual fan or dedicated collector this is always a great horror gift idea. These figures aren't cheap bootlegs or movie cash-ins: NECA brings great build quality across the board and they're easily available from Amazon or your local Comic retailer… but hurry, sine NECA figures are a sure fire hit for any horror nerd in your life, they tend to sell out FAST around the holidays!
Retro-A-Go-Go Vac-Tastic Wall Art
From our personal Favourite MARS ATTACKS (Pictured) to classics like The Munsters, The Creature From The Blue Lagoon and everyone's favourite cable-tv vixen Elivra, Retro-A-Go-Go delivers kitschy, kooky fun for your spooky decor needs with their Vac-Tastic plastic wall art. Full colour and in eye popping 3D, these are ridiculously goofy fun and a great, lighthearted horror gift idea for any room in your house .. and surprisingly affordable given their impressive size.
Darcy The Mail Girl T-Shirt
Our #1 Ho-rorr crush Diana Prince has been immortalized on her own officially licensed t-shirt from the fine folks at Fright Rags! Any true "The Last Drive In" Mutant would be happy to wear the iconic Darcy the mail girl, drawn in a super cute classic pin-up style, and show their undying support for Joe Bob and the drive-in traditions of blood, breasts and beasts! For other great horror gift ideas, dive into their site: since each style is limited you'll be able to get something uniquely special for your special someone.

Horror Decor Candles
From the seasonally scented Krampus candle to the more summery aromas of "Camp Crystal Lake" and our Screamish staff favourite, the beeswax based "Buffalo Bill's Skin Lotion" wax candle, Horror Decor has a ton of cheeky choices perfect for the lair any horror fan. Going strong since 2007, be sure to take a look at the rest of the great horror gift ideas in Horror Decor's online store, from Blockbuster pot-holders to Chop-Top plushies for the Tobe Hooper fan in your life.
Salem's Lott Hot Sauces
Hand crafted in Canada by former musician and hot-sauce afficiando Jeff Salem, we're 100% addicted to his hot sauces after discovering them at Rue Morgue's Spooky Flea Market last year on the hunt for more horror gift ideas. Baring the grisly visages from some classic horror icons, these super flavourful and wickedly spiced hot sauces add a punch to anything without resulting in death or dismemberment, and can be shipped anywhere in the world. We highly recommend "Be Careful" and the new "Shroom Of Doom" to have your own Hot One's style showdown.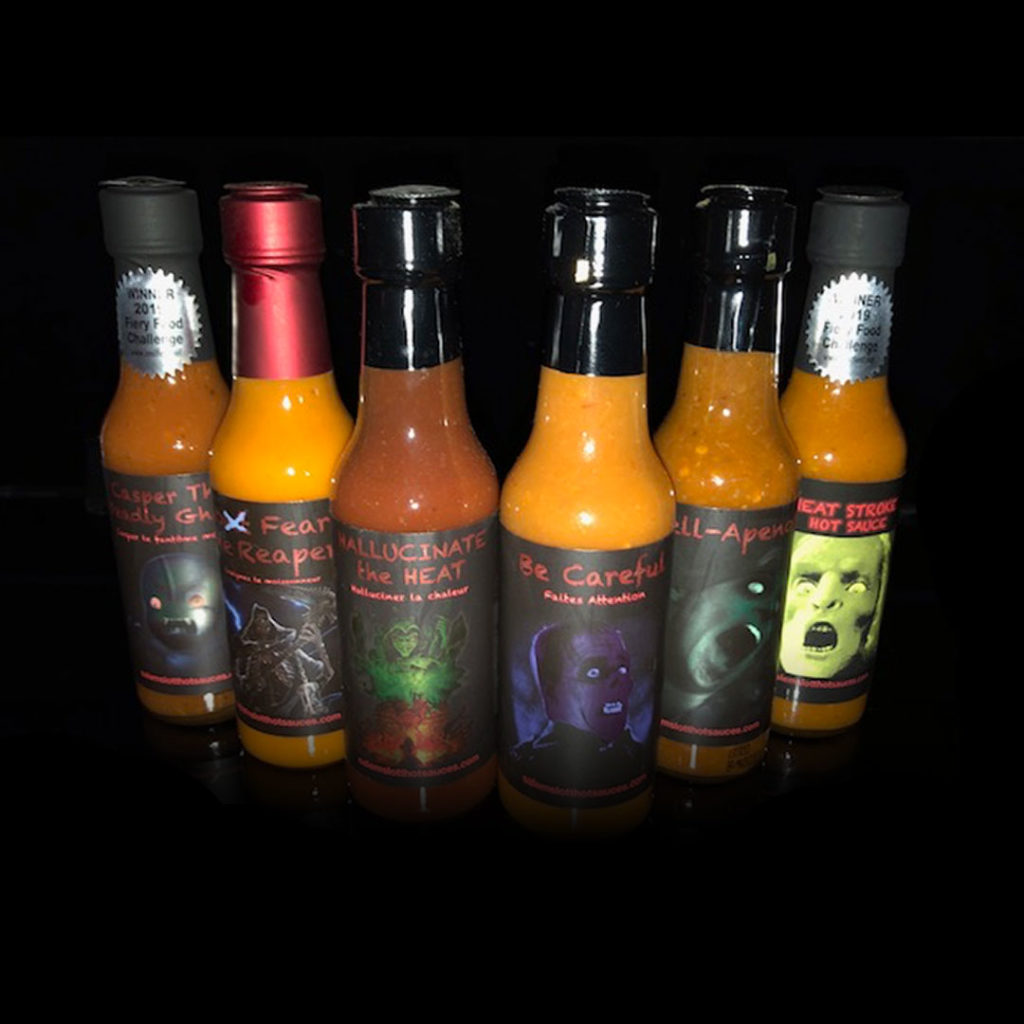 Dumbgood Goosebumps Collection
Rep some inner 90s nostalgia with this super slick lime green goosebumps puffer jacket and help the Horror lover in your life find their own Killer style. Dumbgood has been coming with seriously inspired throwback looks this year and their entire line of Goosebumps and Blockbuster themed clothing are perfect horror gift ideas with an extra splash of style.
Bootleg VHS Enamel Pins
Enjoy a little wayback playback with these dope enamel pins that harken to the days of badly dubbed cassettes being traded between friends. From our personal favourites like Hellraiser and Videodrome (pictured) to Sci-Fi and 80s Teen Comedy Classics, Bootleg VHS has something for every movie fan to find a home for on their own super sweet jacket.
Beastwreck CTHUL-AID Hoodie
One of our favourite illustrators working out there, Beastwreck has another perfect Horror gift idea for the H.P. Lovecraft fan in your life with their ultra-comfortable and low-key hilarious CTHUL-AID hoodie. Enjoy a refreshing beverage as you flee in terror from the hideous elder gods and stay warm all winter to boot in a classic zippered hoodie!
H. H. HOLMES MURDER CASTLE PRINT
A classy way to let people know you're a sick and twisted individual, this incredible cut-away print of notorious World's Fair serial murder H.H. Holmes from artist Holly Harden offers a "the way things work" style guide to his murder castle that's a perfect horror gift idea equally suited for any true crime fanatic or history buff. See each of his ghastly traps in an adorable illustration printed on archival paper in a super cutes 12x12in size you can handily frame.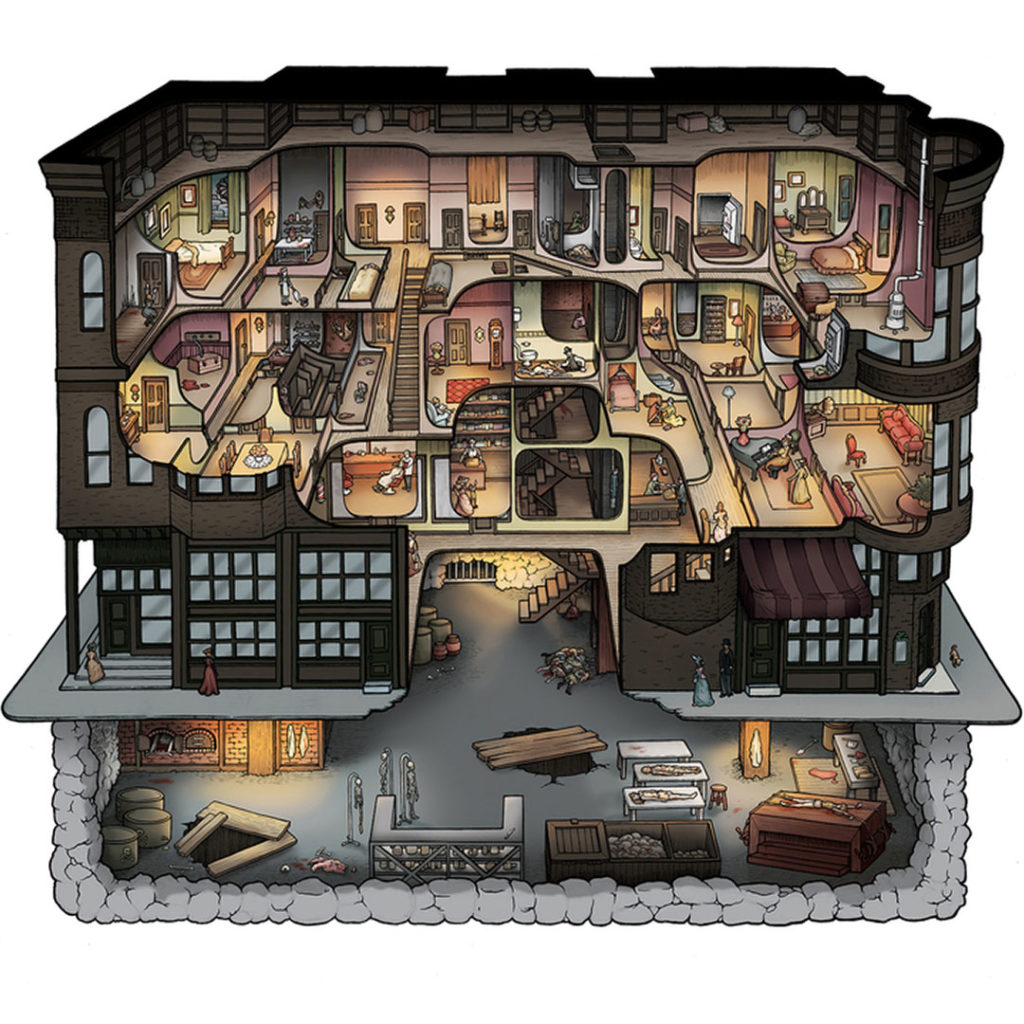 Profondo Rosso – Original Motion Picture Soundtrack
A great horror gift idea equally suited to vinyl junkies or cinephile alike, this absolutely gorgeous double LP from Death Waltz is a stunning remaster of Goblin's seminal score to Giallo master Dario Argento's untouchable classic Profundo Rosso (Deep Red). Printed on heavyweight 180 gram vinyl and packaged in a beautiful gatefold sleeve, this is some serious collector business sure to please even the harshest critics and provide a much better holiday soundtrack than whatever Michael Buble might be singing.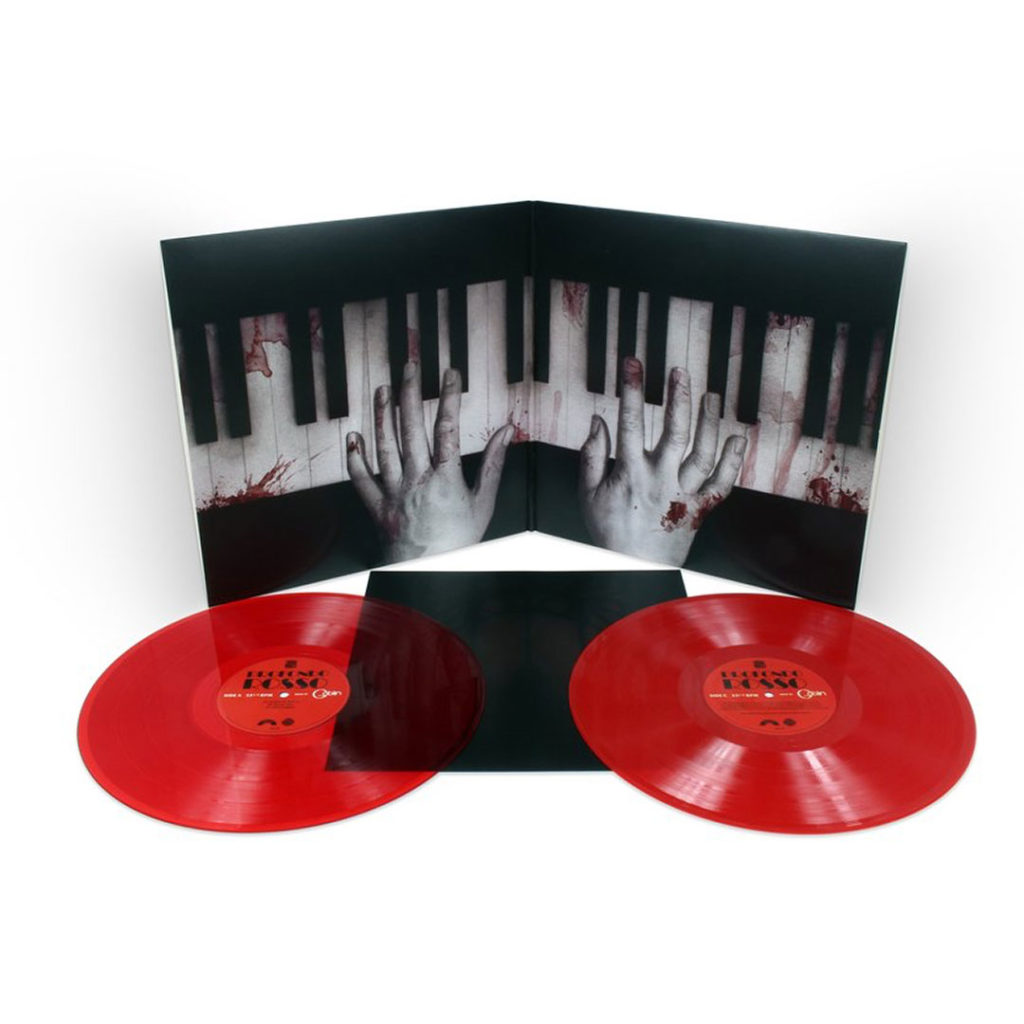 Subscription To SHUDDER
If you're a last minute shopper and need a guaranteed great horror gift idea for someone in your life, don't forget that you can pre-pay for a year of AMC's amazing SHUDDER steaming service and turn over the login to your friend or loved one. With hundreds of movies and shows to choose from, Shudder is a no-brainer for any horror fan to have, and who doesn't love being able to have a year of guaranteed blood and guts to come home to?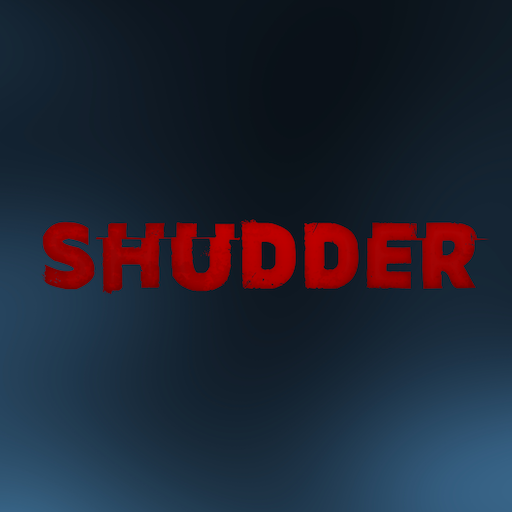 Literally ANYTHING from Vinegar Syndrome
Restoration experts and exploitation archivists Vinegar Syndrome are amongst the very best when it comes to unearthing forgotten films and returning then to all their horrible glory. With a deep library of Horror gift ideas to choose from, like the classic Mutant-Cat-On-A-Cruise-Ship mayhem of "Uninvited" and the late, great Rowdy Roddy Piper's "Hell Comes To Frogtown" to actually good classics like Mausoleum and the original Amityville Horror, Vinegar Syndrome offers up rarities that any movie fan will fiend for.  With in-house 4k restorations, endless extra features and always incredible box art, these are great additions to any collection. Beyond horror, their drive-in era and exploitation movie selections run deep, with truly bizarre, amazing and otherwise obscure oddities galore, so there is literally nothing you couldn't choose that won't make somebody happy.