Viruses. Parasites. Toxic Clouds. The Stuff… Horror movies have always had an obsession with the contagious, from the idea of Werewolves or Vampires spreading their curse from a simple bite to the ever growing catalogue of weaponized T-Virus zombies from the Resident Evil series or the killer fungus from Splinter, we horror hounds love a good pandemic. With the world now more aware of real-world outbreaks than ever, we took a trip into the deepest vaults of our Screamish movie bunker to find 8 great 'Viral Videos' to help keep our readers on their toes for whatever end of the world scenario you might imagine.
28 Days Later (2002)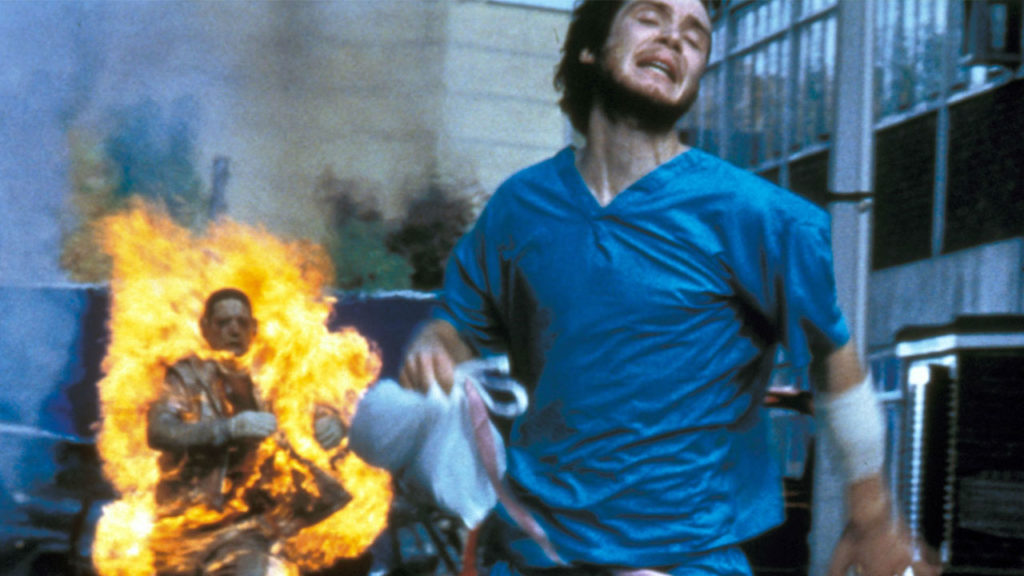 One of the heaviest hitters of any Horror film, '28 Days Later' is a 2002 British post-apocalyptic horror movie directed by Danny Boyle. Depicting the breakdown of society following the release of a highly contagious virus, it focuses upon the struggle of four survivors to cope with the destruction of the life they once knew and became a massive hit, credited with reinvigorating the zombie genre of horror fiction.
▶️ Watch '28 Days Later' On Streaming/ VOD
Deranged (2012)
'Deranged' is an inventive 2012 South Korean science fiction / horror mystery film directed by Park Jung-woo. Former doctor Jae-hyuk tries to find a cure after his wife and children come down with a mysterious infection that causes people to spontaneously drown themselves. As the bodies pile up and chaos reigns, a conspiracy surrounding the cure marries the medical thriller and horror genres together for a supremely satisfying watch.
The Crazies (2010)
The Crazies is a 2010 remake of the 1973 Horror film of the same name by George A. Romero, who also produced. The surprisingly good reboot lands in the fictional town of Ogden Marsh …the "friendliest place on Earth"…..whose town water supply is accidentally infected with the "Trixie" virus. After an incubation period of 48 hours, this virus gradually transforms the mental state of the infected into that of cold, calculating, depraved, bloodthirsty killers …and all hell gloriously breaks loose.
▶️ Watch 'The Crazies' on Streaming/VOD

REC (2007)

REC is a 2007 Spanish horror movie, co-written and directed by Jaume Balagueró and Paco Plaza, and the first in a 4 part series. One of the few great "found footage" flicks, REC sees TV host Angela and her cinematographer following fire services on a call to an apartment building for a normally mundane newscast. But once Spanish police seal off the building after an old woman is infected by a virus which gives her inhuman strength, things really get gruesome.
Pontypool (2008)
Ultra low-budget 2008 Canadian horror movie 'Pontypool' is a strange one. Directed by Bruce McDonald (Hard Core Logo) and adapted from Tony Burgess' novel Pontypool Changes Everything, it stars 'Come to Daddy"s Stephen McHattie as Grant Mazzy, a DJ who barricades himself in the booth of a local radio station and tries to figure out a way to warn his now bloodthirsty listeners about a new deadly virus and its unlikely mode of transmission: the English language.
▶️ Watch 'Pontypool' on Streaming / VOD
Infection (2004)
A rare 2004 Japanese horror movie, 'Infection' (Kansen) is directed by 'Tales of the Unusual"s Masayuki Ochiai, where in a run-down hospital a doctor's mistake unwittingly creates dark consequences for all. After being ignored for far too long, a patient with an unknown disease is being kept in isolation and though he is still alive, his body mass is liquefying into green goo. As the staff battle the secretive head surgeon to find the cause, things spiral into surreal madness and it's everyone for themselves as the infection spreads.
▶️ Buy 'Infection (Kansen)' on DVD
The Omega Man (1971)
The Omega Man is possibly the funniest, funkiest Zombie / Horror movie ever and an absolutely awesome watch. Charlton Heston plays a doctor / scientist / soldier / baddest motherfucker left alive after a bio-engineered plague wipes out the world and must defend his home from a cult of murderous survivors known only as "the family". One of the 70's most classic b-movies and by far the best 'I Am Legend' adaptation of the three, it's got it all: Guns, Gore, the awesome outfits of Rosalind Cash, Heston in a nazi costume (?!), some sweet 70s boobs and great cinematography of an abandoned Hollywood.
▶️Watch 'The Omega Man' on VOD
Ebola Syndrome (1996)
The goofy, gruesome and totally over the top  'Ebola Syndrome' is a bloody Category III sleazefest from Hong Kong director Herman Yau and has earned its considerable reputation among gorehounds and Asian horror cultists as among the most cringe-inducing films of its kind. A serial rapist and killer contracts Ebola on the run in Africa and after some mild cannibalism and necrophilia returns to Hong Kong to spread terror on a virus fuels killing spree in this anything but feel good feature packed with off-colour racism, needless brutality and bizarre acting.
▶️ Watch 'Ebola Syndrome' on YouTube