Horror film 'VFW' blasted it's way onto VOD and select cinema screens this weekend and with it director Joe Begos' has delivered a lean, mean, gloriously gory tale of grizzled Vietnam vets who defend their local watering hole from a marauding band of drug-crazed punks over the course of one deadly night. Awash in blue-dialog and blood-red lights this one is refreshingly free of bullshit; a stripped down, brutal b-movie, 'VFW' is the most focused feature so far from Begos and a huge win for producers, the re-launched Fangoria Studios.
In 'VFW', the gloriously sour Fred (Stephen Lang) and his cadre of iconic character actor cronies (including William Sadler, Fred Williamson, Martin Kove and David Patrick Kelly) spend their days, and nights, drinking in a run down VFW hall and telling tall tales of their times in Vietnam to whoever's unlucky enough to listen. When runaway teenager Lizard (Sierra McCormick) seeks refuge from the enraged owners of a half-million dollars worth of Hyper, a deadly new drug she has stolen, the vets must prepare for one last stand against an army of angry mutants out to get it back. One part zombie standoff, one part old-army-buddies fight back with some 'Escape From New York' punk-apocalypse thrown in for good measure, 'VFW' absolutely revels in it's riotous levels of gore; gallons of blood burst forth as the vets improvised weapons turn the gutter punks into dog food and the violence so quickly escalates into absurdity that it's hard not to grin as angle-grinders and flagpoles dispatch the horde of Hyper addicts who swarm the heroes.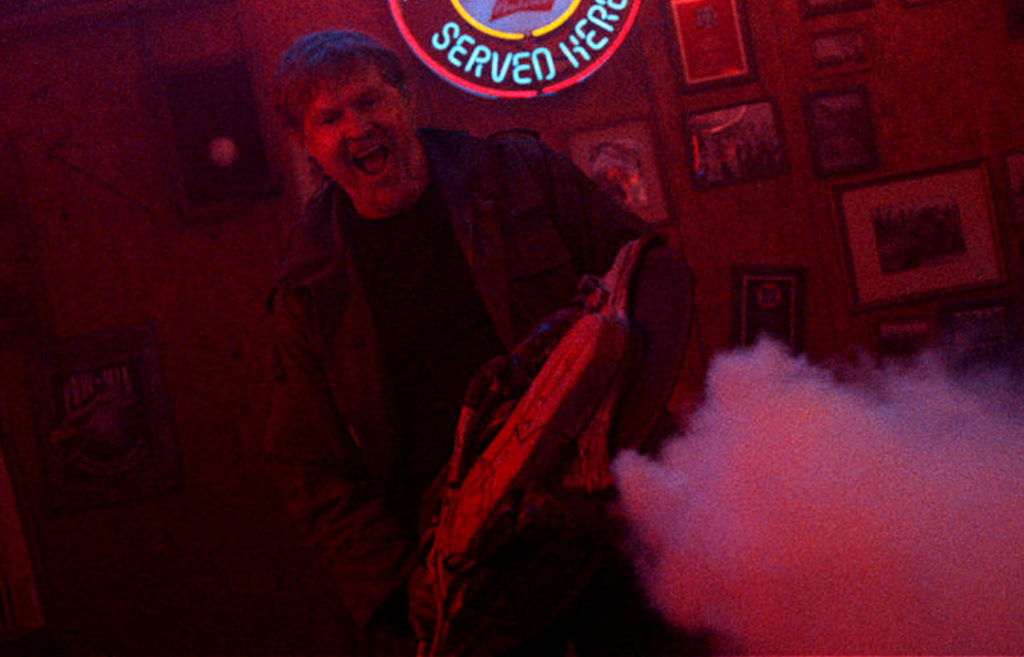 Begos evokes a grind-house feel to cinematographer Mike Testin's muted, murky images which keep the claustrophobia front and centre, while the performances from the heroes and villains alike are outlandish, scenery-chewing fun that effortlessly bounce off each other with the feel of a lifelong friendship or appropriately moustache-twirling menace. Long time collaborator Steve Moore delivers a suitably scuzzy, minimal score which only adds to the efficiency of the film and further anchors it in loving 80's era aesthetics. In fact there's very little VFW falls short on, and whatever minor technical hiccups or clunky line-readings made it to the final cut are whisked away in a whirlwind of head-splitting violence in a matter of seconds. This film moves fast and fearlessly towards it's inevitable conclusion and while we can see it coming a mile away, anticipation never makes a roller coaster less surprising.
Refreshingly simple and effective with no sequel-bait in sight, 'VFW' lands with a serious impact and marks both 'Begos and the reinvigorated Fangoria brand as the new standard in indie horror. Check the trailer below and catch it on VOD now!