One of 2019's boldest new films, and one of it's best, "Luz" flips the demonic possession genre on its head, stripping it down to a tense cat and mouse game played out through the magnetic performances of leads Luana Velis and Jan Bluthardt across a surreal and ever shifting narrative and one of the strangest police interrogations you've ever seen. Writer-director Tilman Singer casts a trancelike spell in this debut feature, spare in its storytelling, sinewy in structure and pulsing with a feral heat below the surface for every second of it's scant 65 minute run time. "Luz" knows from the very first moment that a distressed taxi river arrives in a run down police station where her story will go, even if we, the audience are only passengers along for its wild ride.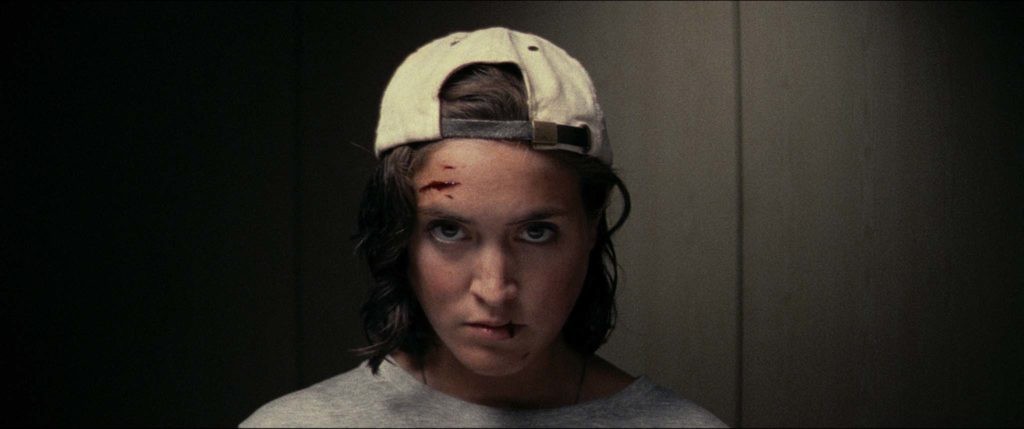 On a rainy night, Luz (Velis) has abandoned her cab somewhere in a nameless German city, and her fare has gone missing. Rattled and bloody, she lands and a moribund police station, being questioned by hardened detective and a translator as they wait for their chief interrogator, Dr. Rosinni (Bluthardt) a master of unconventional hypnosis, to help unravel her story of being attacked by a possessed woman. Across town in a sterile bar, Rosinni is accosted by a femme fatale (Julia Riedler) with her own strange story to tell, a tale of her time back in Chile and her catholic-school crush, who we come to learn is Luz herself and how It went terribly wrong. To tell more would't only rob the film of the impact it's head-spinning story shifts hit the audience with, but any plot synopsis has a way of misrepresenting a genuinely original movie such as this. With "Luz" the "what" of the story takes a well deserved back seat to the "how", with the endlessly inventive interrogation centrepiece cementing the film as a truly refreshing take on a classic horror cliche.
Realism is secondary to the story Singer tells in "Luz"; with scenes awash in a near permanent haze and lovingly shot on old-school 16mm film (but with new-school anamorphic lenses that were created for the new digital RED cameras) by young cinematographer Paul Faltz, everything becomes a dreamlike vision, both hyper realistic and ephemeral as the fuzziness of the story and the film stock itself intertwine. Evocative and striking even in a palette of grainy grey and bureaucratic beige, "Luz" also deploys a wildly inventive soundscape that's as much a part of the film as any performance, and the score from Simon Waskow shines through with all the right notes of synth-heavy, retro tinged 80's Giallo grandeur and percussive free-jazz without becoming shameless reproductions. Rigorously framed images shock with intensity, paired with equally evocative physical performances from the leads, who inhabit their characters bodies entirely as the film dances between hypnosis, memories, reality and hallucination with a deft hand.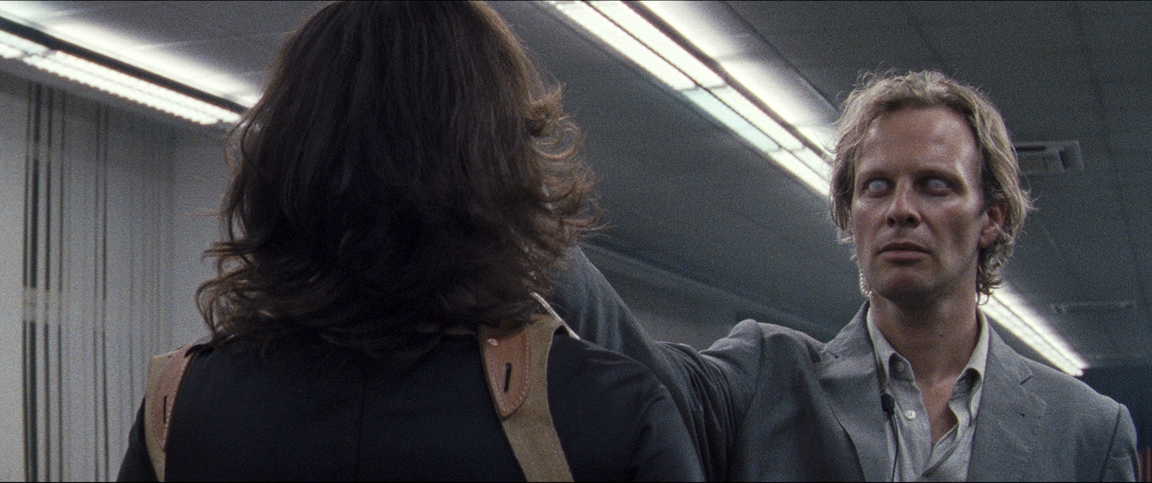 Largely confined to the eerie police station , "Luz" creates a surreal, theatrical battleground ("a chamber play", Singer said in a recent interview) for past transgressions to play out against the ever growing evil that pursues our lead, and keeps the audience enraptured in a way heavy handed, "indie horror" can never replicate. When a character simply pulling a pen a purse can cause your skin to crawl, you know you're in the hands of an assured director, and Singer's confidence shines through every moment of the film. Unlike recent reboots and indie features that try too hard to talk about "the movie" beyond the screen, with "Luz" the film itself the focus, and by combining the profoundly simple ingredients of sound, light and editing together with an original story and commanding performances, Singer's proven himself to be a young director to watch with excitement of what's to come next.
"Luz" is currently available for rent on VOD via all major outlets, check the trailer below for a small sample of what to expect.