Director Toby Wilkins' feature debut "Splinter" hit theatres on Halloween 2008 after winning six ScreamFest Awards including Best Director and Best Picture, a 2009 Saturn Award nomination for Best Horror Film, and nominations for Best Horror Movie and Most Memorable Mutilation at the dearly departed 2009 Spike TV Scream Awards … and for good reason. A bold, B-Movie  blend of 'The Thing' and 'Night Of The Living Dead', Splinter keeps things tight, tense and terrifying on a bare-bones budget. Wilkins previous work in special effects and editing are front and centre, with a unique take on the mutant monster / body horror genre that's earned a rightful place as a cult classic. While critics gave Splinter pretty positive reviews, and the film turns up on a lot of "Great Movies You've Never Seen" lists, and In spite of Splinter's popularity among those who have actually seen it… the movie is a relative obscurity, leaving it a perfect pick for a watch this spooky season.
After a quick set-up involving a gas-station goober getting gored by….something, we join final girl Polly Watt (Jill Wagner) and her nebbish boyfriend Seth (Paulo Costanzo) after a camping mishap causes them to spend the night in search of a low-budget motel. Meanwhile two hapless criminals, Drug addict Lacey and the weaselly Dennis (Well played by Shea Whigham as a criminal Anti-Hero with a tragic backstory and a bizarre sense of honour) abandon their getaway car and head out on foot. When Polly passes by Lacey, she stops the car, the pair get Kidnapped, and after blowing out a tire on the road, they head into a gas station to render repairs. Quickly, things go further off the rails when our pump jockey from the intro returns in his infected form, and the travellers have to fight for their lives as the parasite transforms every thing….and limb… it touches into ravenous killing machines. The creature in question is a mold which is attracted to heat and infects its victim via its "splinter" protrusions.  Once a parasite has embedded itself in living tissue it spreads through the host body until it has taken total control and it seeks out its next host for reproduction.  An assimilated host can contort into impossible positions, attach … liberated….parts from another host, or remove parts of itself which become independent creatures. It's gory, it's believably gross, and a great new take on the 'zombie' monster trope.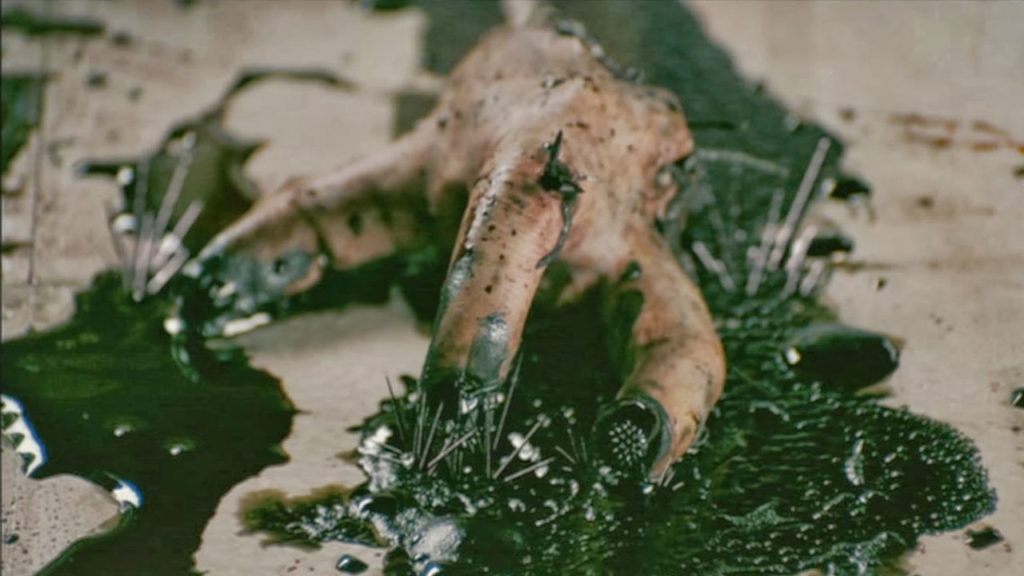 At a lean 80-ish minutes, Splinter doesn't waste time with much setup, back-story or explanation, but we're not here for that. We want gore and Splinter delivers some supremely satisfying kills with a skillful blend of practical effects and surprisingly effective CGI, winning our own 31 Days Of Halloween award for "Less Chatter, More Splatter". As the townsfolk continue to attack, it's up to Polly and Seth to figure out how to escape and keep themselves from becoming infected, and as things ramp up, director Wilkins' keeps everything moving without losing the plot. Splinter is a solid, disgusting, disturbing, and down-right smart horror movie that stands alone with it's unique creatures, clever editing tricks that hide it's modest budget, strong performances of otherwise 'one-note' characters and a strange sense of humour without being a joke.
You can catch Splinter on Amazon Prime, part of their ever growing library of solid Horror cinema, or on Blu-Ray if that's your thing. Check out the trailer below to put yourself in an itchy mood.