"Onibaba" (鬼婆 Demon Hag) is a 1964 Japanese historical horror film written and directed by Kaneto Shindô. Set during civil war in the 14th century, Nobuko Otowa and Jitsuko Yoshimura play two women who kill soldiers to steal their possessions, and Kei Satō plays a man who ultimately comes between them. The story takes place shortly after the Battle of Minatogawa which began during a period of over 50 years of civil war, the Naboku-chō period (1336 to 1392).
The story of "Onibaba" was inspired by the Shin Buddhist parable of yome-odoshi-no men (嫁おどしの面) (bride-scaring mask) or niku-zuki-no-men (肉付きの面) (mask with flesh attached), in which a mother used a mask to scare her daughter from going to the temple. She was punished by the mask sticking to her face, and when she begged to be allowed to remove it, she was able to take it off, but it took the flesh off her face with it.
Every frame of "Onibaba" could be a painting, stunning its viewers with sheer beauty. The shadows inside the huts are atmospheric and abstract. The thick reeds of the susuki grass appear as waves in the ocean at night. This story of a controlling woman's fate and also the effects of war, weave together perfectly with emphasis on the imagery of faces based on the effects of nuclear bombing. An odd mix of drama, pulp, exploitation and tension makes for one of the most well-rounded films in all genre history.
As someone who had lived through the Second World War, Shindo had first-hand experience of the horrors of marital conflict, not just for those on the front line, but also for those left home alone. Even if "Onibaba" tells the story of a haunting that is entirely faked, the horrors that it contains are real and compelling enough, depicting a war- ravaged landscape, where the basic need to survive has overridden all morality, and ordinary people unblinkingly enact the most depraved of misdeeds.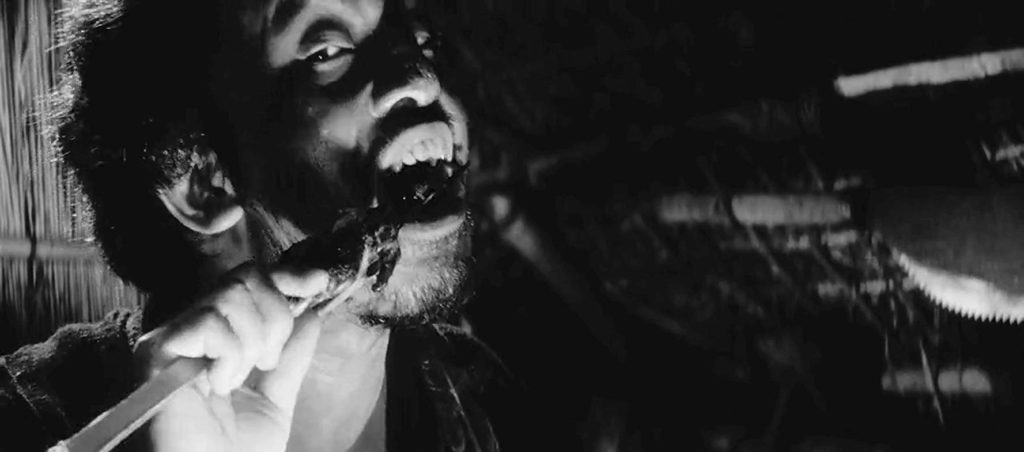 Shindo wanted to film "Onibaba" in a field of susuki grass. He sent out assistant directors to find suitable locations. Once a location was found near a river bank, prefabricated buildings were set up to live in. Filming started in June 1964 and continued for three months. On set, there was a rule that if somebody left they would not get any pay, to keep the crew motivated to continue. Shindo included dramatized scenes of the dissatisfaction on set as part of the 2000 film By Player.
Although a horror movie, there is no denying its political / anti-war message. Beautifully shot in black-and-white with a membrable soundtrack by Hiraku Hayashi, consisting of sax, drums, tubas and ritualistic voices, "Onibaba" is a stark portrayal of lust, jealousy, raw hunger and the failures of capitalism. "Onibaba" was saved for one of the last films on our list for a reason, it's one of the more haunting and important ones ever covered and a MUST SEE for any horror or film fanatic. You can see it in glorious HD on The Criterion Channel, or grab the Blu-Ray, and make sure you watch the hypnotic trailer below!