"Innovative, disgusting and nihilistic" are words fit to describe XTRO, a 1982 sci-fi horror gem written and directed by Harry Bromley Davenport. This movie defies all 'rules' – and since it's release has grown a cult following.
XTRO may be morbid, upsetting and downright wrong on so many levels, but it's a bona-fide original, and something I can safely say I've never experienced in film. Regardless of your particular tastes in genre film – this one will leave a mark on your psyche… potentially forever. Landing on the list of Video Nasties, XTRO was one of only two films made in England to be banned as part of the early 80s moral panic for it's outrageous effects … and full frontal nudity.
Readers beware – If you have fears of clowns or little people, absolutely under no circumstances should you watch this film. There's something about seeing a midget clown incubating the body of a young woman with alien fetuses that just… sticks with you.
Three years after young Tony Phillips (Simon Nash) is the sole witness of his father Sam's (Philip Sayer) alien abduction, he has still not been able to fre himself of traumatic nightmares about that day. No one believed Tony's theories and, in the meantime his mother Rachel (Bernice Stegers) has moved on and moved in with some douchebag photographer Joe (Danny Brainin). When Sam suddenly returns, claiming he has no memory of the days since he went missing, Rachel finds herself in a love triangle – with a potential alien. Sinister things are however going on in the background of this scarring and surprisingly dark b-movie (Which funnily enough, was released only 8 months after "E.T: The Extra-Terrestrial")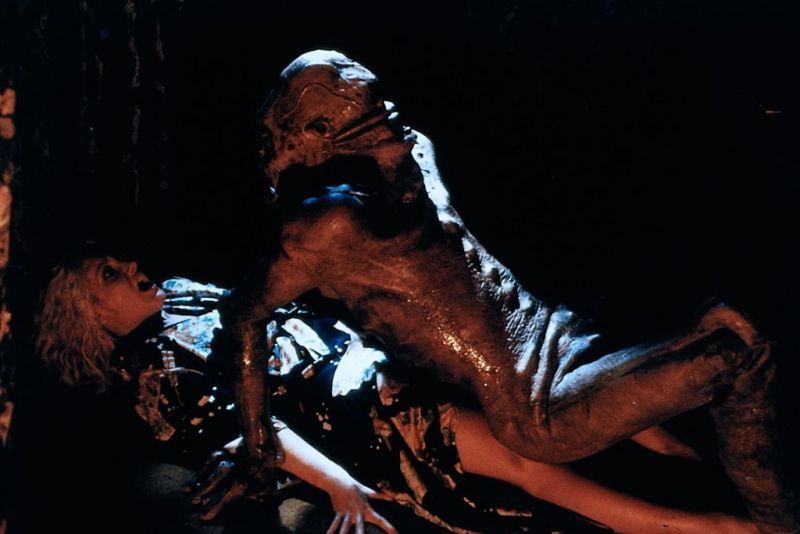 On Siskel & Ebert, Roger Ebert criticized the film, calling it "ugly" and "mean spirited". In his one-star review, Ebert chastised the filmmakers for creating "an exercise in sadness". He is not wrong. XTRO Is an emotionally abysmal movie to watch. However, you can't simply drop it into a pile of other castoff horror and sci fi trash from the 80s.
XTRO is crude, gross and surreal at times, as well showcases some pretty fucked up and incredible effects that outshines its low budget. Instead of going full bore into schlock territory – XTRO somehow treads the line of being a very linear and disturbing and a phantasmagoric mood piece. Expect: A snake in a salad, goopy face-melting, shoulder impregnating and of course, a woman giving birth to a full-grown man.
With the original recently released on Limited Collector's Edition Blu-ray in response to a resurgence in popularity. XTRO is now available on Blu-Ray and streaming on Amazon prime. Take in the trailer below and add this one to your watch list.
https://www.youtube.com/watch?v=r3GeH4FDd4s