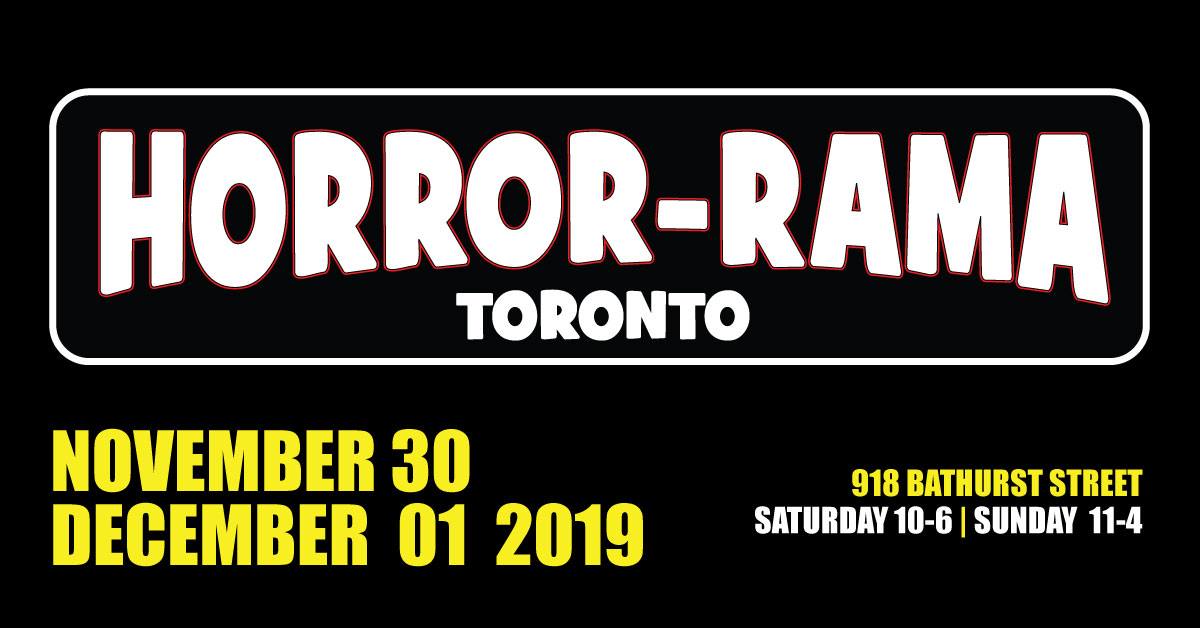 HORROR-RAMA is Toronto's ONLY convention and fan experience DEADicated to celebrating horror film culture of all kinds. The show is the brainchild of Luis Ceriz, founder and owner of Toronto's landmark film culture emporium, SUSPECT VIDEO, Chris Alexander, filmmaker (QUEEN OF BLOOD, FEMALE WEREWOLF), synthwave composer (Music for Murder, Blue Eyes of the Broken Doll), former editor of FANGORIA and co-founder/editor of DELIRIUM magazine as well as marketing specialist (FANGORIA, FANTASM) and actress (BLOOD DYNASTY) Cheryl Singleton. Actress, writer, performer and producer Ali Chappell joined the team in 2018.  Together, these multiple maniacs bring their broad knowledge of cinema and of the convention landscape to HORROR-RAMA along their enthusiasm and passion for all things bizarre and fantastical. HORROR-RAMA 2019 marks its SIXTH-year anniversary – bringing genre fans together in Downtown Toronto. This year taking place November 30th & December 1st at 918 Bathurst Culture, Arts, Media & Education Centre.
HORROR-RAMA brings together international artists, actors, creators and composers together along with some of the wildest vendors around. You can't miss this fun, exciting weekend of genre film culture delirium, with panels, screenings and even a short film festival! DON'T MISS OUT – Tickets are NOW ON SALE! 
Here's a SCREAMISH preview of who to expect at the convention and who we're most excited about! This years convention is centered around two beloved Horror classics – HELLO MARY LOU: PROM NIGHT II & DEMONS 2!
HORROR-RAMA announced that Bruce Pittman (Director of Mary Lou) will be joined by Mary Lou herself, Lisa Schrage at this years convention. Pittman is a veteran Canadian filmmaker whose work includes the Canadian giallo MARK OF CAIN, key episodes of FRIDAY THE 13th: THE SERIES, THE RAY BRADBURY THEATRE, the 80s incarnation of THE TWILIGHT ZONE, William Shatner's TEKWAR and MANIAC MANSION. Italian horror movie legend Geretta Geretta also joins this years line-up. Geretta joins DEMONS director Lamberto Bava and – along with the presence of DEMONS 2 star Coraline Cataldi-Tassoni is helping make this year the DEMON QUEEN reunion! Outside of her iconic role, drooling green blood as the possessed prostitute Rosemary in Bava's 1986 masterpiece, Geretta also made her name starring in RATS: NIGHT OF TERROR, SHOCKING DARK and Lucio Fulci's MURDER ROCK. Come and hang with the awesome Geretta Geratta and make your DEMONS dreams come true!
Canadian actress Lisa Schrage will also be appearing in her FIRST EVER CONVENTION APPEARANCE! That's right, the evil Mary Lou herself from 1987 cult classic HELLO MARY LOU: PROM NIGHT II, has come out of hiding to meet her hardcore fans! Schrage will be appearing alongside PROM NIGHT II composer Paul Zaza to make this year and extra special spook-tacular event!
Veteran actor George Buza, who played the brutish "Verna" in 1988 Canadian horror classic THE BRAIN will also make an appearance at this year's HORROR-RAMA! Buza is also familiar to cult movie fans for his memorable appearances in films like Cronenberg's FAST COMPANY, STIR OF ECHOES and A CHRISTMAS HORROR STORY. Buza has also done extensive voice acting for animated programs like TALES FROM THE CRYPTKEEPER and X-MEN, where he has long played the character "Beast".
Coralina Cataldi-Tassoni In Demons 2Italian/ American actress musician and artist Coralina Cataldi-Tassolini will be appearing alongside her DEMONS 2 and GHOST SON director Lamberto Bava, telling tales of making macabre movies all over the globe! Best known for her role as fanged birthday girl-wraith Sally in DEMON 2, Cataldi-Tassoini is Italian horror royalty, full stop, with performances – most in which she gets murdered in high style – in Dario Argento's OPERA, PHANTOM OF THE OPERA, and MOTHER OF TEARS as well as gory Italo-schokers like EVIL CLUTCH and THE DEVILS OF MONZA.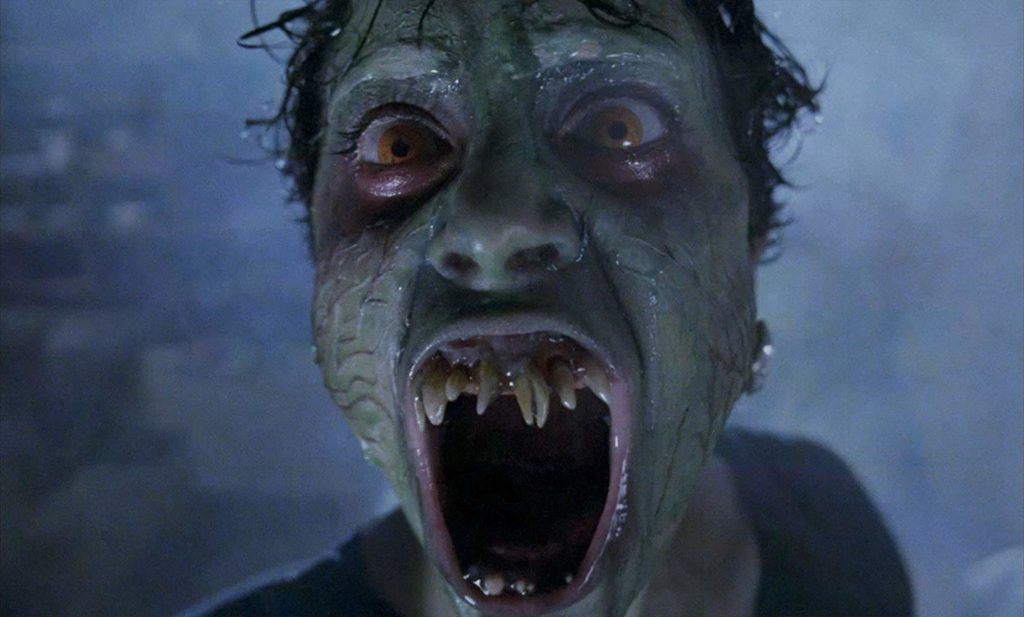 Last but certainly not least – SCREAMISH is more than excited to have the opportunity to meet Giallo maestro LAMBERTO BAVA – Making his first eve Canadian appearance! The legendary Italian director who – along with producer and co-writer Dario Argento – brought you the ultima '80s gore classics DEMONS and DEMONS 2, learned the business of bloodshed from his father, the founder of Italian fright, Mario Bava, and served as assistant director on films like PLANET OF THE VAMPIRES and HATCHET FOR THE HONEYMOON. In 1980, Lamberto shocked audiences with his own disturbing film MACABRE and then in 1983 with the violent neo-giallo A BLADE IN THE DARK before solidifying his name in the genre with Sergio Stivaletti-sculpted Demons. Bava is one of the TRUE icons of Italian terror and we are SO excited to meet him and so many other incredible guests and vendors!
STAY TUNED to SCREAMISH all November long for updates on vendors, guests and the convention itself. HORROR-RAMA tickets and VIP packages are NOW ON SALE – So get yours ASAP! Visit horrorramacanada.com for more info! You can also stay up to-date with all HORROR-RAMA announcements over on their socials on Facebook, Twitter and Instagram.