Adaptogens & Nootropics are all the rage. Read on to learn the benefits, differences and ways to try these brain building alternative medicines. 
The world of Adaptogens & Nootropics
Biohacking and wellness continue to become more prominent industries as humans learn more about our neurological and biological systems and how they interact with natural alternative medicines and ingredients.
We all know the importance of mindfulness and "brain training" – but did you know that nutrition can have just as impactful an effect on your brain function?
That's where Adaptogens and Nootropics come in.
Whether you're a skeptic or believer, there's no denying the rise in popularity for adaptogens, and wellness drinks. From Kombucha to Ashwagandha to weirder things like "magical moon" and "golden dandelion" lattes and teas, it can be a bit daunting and confusing to know where to start.
We've done a deeper dive into WTF adaptogens and nootropics are – and which are some of the best adaptogenic and nootropic drinks to experiment with.
Are they worth the hype?
100%.
Here's why:
What are Adaptogens?
Adaptogens are ancient plants, herbs and or roots that support brain function and help the body's ability to handle mental and physical stress.
These are different from Nootropics in the sense that Adaptogens benefits are widespread throughout the body, instead of focusing on a particular area or concern.
Examples:
Lion's Mane Mushroom – An edible and medicinal mushroom known for its ability to boost mood, energy levels and reduce anxiety. Found in capsule or sometimes liquid extract form.
Check out Rainbo Mushroom 11:11 and add this multi-vitamin complex to pretty much any drink you'd normally drink. We personally love adding it to our morning smoothie or latte.
Maca – A root vegetable, related to the criminally underrated radish. Boosts mood and regulares stress hormones. Normally found in powder format making it easy to add to any drink you'd like.
Goji – Also known as the wolf-berry, native to China, the Goji berry is packed full of nutrients and has been used in herbal teas, juices, wines and medicines. Early studies found they promote better sleep, weight loss, immunity boost and a feeling of well-being and calmness.
What are Nootropics?
Nootropics or "brain boosters", are substances that improve cognitive function, in particular relating to creativity, memory, focus and reduce inflammation in the brain.
Examples:
L-Theanine – A naturally occurring amino acid found in tea, but can also be taken as a supplement. Several studies show that taking 200mg of L-Theanine has a calming effect, without causing drowsiness. Taking even 50mg – the amount found in roughly two cups of brewed tea – has been found to increase alpha-waves in the brain, which are linked the creativity.
Ginkgo Biloba – Ginkgo biloba, or maidenhair, is a tree native to China that has been grown for thousands of years for a variety of uses.
Because it's the only surviving member of an ancient order of plants, it's sometimes referred to as a living fossil.
While its leaves and seeds are often used in traditional Chinese medicine, modern research primarily focuses on ginkgo extract, which is made from the leaves.
Ginkgo supplements are associated with several health claims and uses, most of which focus on brain function and blood circulation.
Creatine – Produced naturally and found in amino acids – Creatine is the number one supplement used for improving performance in gym. Studies show it increases muscle mass, strength and exercise performance. Additionally it protects against neurological disease.
5 Adaptogenic / Nootropic Drinks To Try
1. Blue Medicinal Mushroom Latte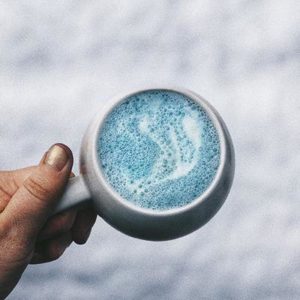 One of our favourite brands Rainbo shared this beautiful immunity boosting adaptogenic latte recipe packed full of 11 powerful and potent medicinal mushrooms.
Ingredients
1 tbsp butterfly pea flower tea
2 slices of fresh ginger
½ cup of boiling water
¾ cup milk of your choice, I prefer oat or hemp for the best foam
1 dropper of Rainbo 11:11 tincutre
Rainbo Forest Juice, to taste
Directions
Steep butterfly pea tea with ginger and boiling water for 1-2 minutes until dark indigo.
Strain the tea and add to your favourite mug.
Top the tea with foamed milk, Rainbo tincture and Forest Juice to taste. Combine all ingredients together, gently and enjoy 🙂
Source: https://rainbo.com/blogs/recipes/blue-mushroom-latte
2. Magic Moon Latte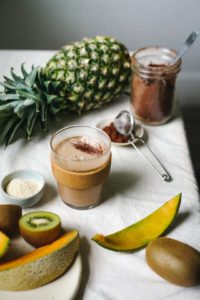 Food stylist and writer Sophia Macken shared this adaptogenic herbal latte to help ease PMS symptoms. Full of hormone balancing ingredients anyone can benefit from, and can just be consumed as a healthy alternative to overly sweet and expensive flavoured lattes. Here's the recipe from her website Wholehearted Eats:
MOON-TIME LATTE
Influenced by this recipe from the Great Kosmic Kitchen.
Serves 1.
1 Mug Almond Milk (about 12 oz)
1 Rounded tsp. Dandy Blend (or favourite instant dandelion or chicory coffee substitute)***
1/2 tsp. Ashwagandha Powder
1/2 tsp. Tahini
1/2 tsp. Maca
1/8 tsp. Cinnamon
1/2 tsp. Cocoa Powder
1/2 tsp. Coconut Oil
1/2 tsp. Coconut Sugar (optional)
Begin by measuring the amount of milk you need by pouring the milk into your intended drinking cup.
I used a standard mug, which was about 12 oz. In a small pot heat up the milk and other ingredients until nice and warm.
You'll probably want to give it a bit of a stir to make sure the ingredients don't stick to the bottom.
Once it gets all nice and warm, pop it in a mixture in a high speed blender and whip on high for a minute or until frothy.
Serve and enjoy!
*** If you don't have access to herbal coffee, a strong decaffeinated coffee will also work.
3. The Ultimate Tonic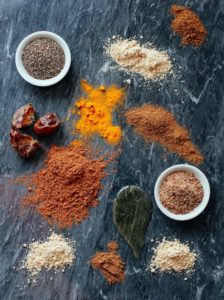 The Ultimate Tonic is an antioxidant and anti-inflammatory packed tincture containing mushrooms, turmeric, cinnamon, and sweet dates with cashew milk.
Medicinal mushrooms are packed with antioxidants, anti-inflammatory compounds and active constituents that have been shown to have immune boosting properties among other health benefits.
This tincture uses the power of adaptogens found specifically in medicinal mushrooms. Here's the recipe from Nutrition Stripped:
THE ULTIMATE TONIC RECIPE
SERVES 1
Ingredients:
1 1/2 cups homemade nut milk
1 tablespoon chia seed
1 tablespoon ground flax seed
1 tablespoon melted coconut oil
1 tablespoon local honey
1-2 medjool dates, pitted
2 tablespoons raw cacao powder
1/2 teaspoon turmeric
1/2 teaspoon of each organic powdered cordyceps, reishi, shiitake, chaga, maitake, and king oyster OR use 1 tablespoon of a mushroom mix
Pinch of sea salt
Directions:
Simply combine all ingredients into a high speed blender and blend until smooth. Adjust sweetness by adding additional dates
Serve chilled over ice or serve warm by pouring into a small saucepan and gently heating until warm to touch.
4. Daydream Sparkling Water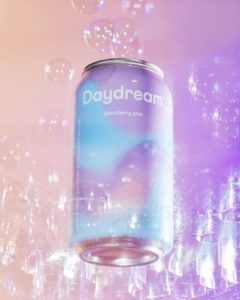 This sparkling water contains no sugar, no caffeine, and a mix of powerful adaptogens and hemp extracts that work with the body's immune system. Making it a go-to for anyone looking to increase focus, reduce stress & fatigue. Some adaptogens found in Daydream include:
Hemp Extracts (Balance & Clarity)
Schisandra (Stress Reduction)
Moringa (Anti-inflammatory & Anti-oxidation)
Ginseng (Focus & Energy)
Canada's first sparkling water infused with hemp extracts and adaptogens come in a variety of delicious flavours, like: Blackberry Chai, Cucumber Lime and Peach Ginger. This water is a hot item so order yours online before they sell out (again) or check your local stockists to grab a can or sample pack!
5. Anti-Stress Ashwagandha Shot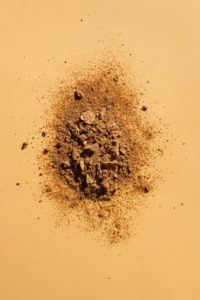 If you find yourself constantly reaching for that second or third caffeine dose half way through the day, we highly recommend this quick and easy shot as an alternative to a quick pick-me-up.
It's a powerful adaptogenic drink that uses the all-natural superpowers of: honey, apple cider vinegar, and Ashwagandha.
This shot is a fantastic source of antioxidants and helps your immune system less susceptible to harmful effects of stress.
Ingredients:
2 Tbsp apple cider vinegar
1 tsp honey
1/2 tsp ashwagandha powder
1/4 cup water (optional)
Instructions:
Heat all the ingredients in a small saucepan then pour in a shot glass.
You can drink the mixture as it is or dilute it in 1/4 cup of water.
If you are a bit weirded out by things like "moon lattes" we also included more digestible and accessible ways to experiment with this new growing trend of nootropic and adaptogenic drinks, elixirs and tonics.
Interested in adaptogens, nootropics, plant medicine and alternative ways to bio-hack? Stay tuned to Strange Comforts for new content every Monday.
Featured image credit: Photo by Lisa Hobbs on Unsplash